Latest News
Time Flies
(September 19, 2015)
---
So what has happened on the farm since spring?
Well, one exciting project was planting a small wood with the help of the Woodland Trust.The wood has 500 trees and also a hedge. This will give some diversity to the farm and help create habitats and corridors for the wildlife as well as some protection from the weather for our livestock. The Woodland Trust are looking for areas to plant trees and I would thoroughly recommend them. They were helpful in the planning stages and provided all the trees, stakes and guards. All we had to do was plant them.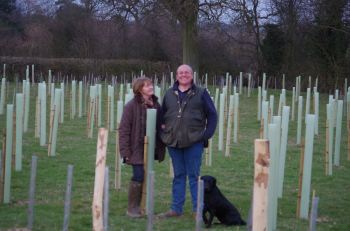 One item of sad news. My beautiful horse, Fox, was put down back in July. He was 25 years old and had been part of my life since he was 4. I knew the time had come and it was the hardest decision I have ever made. He was a huge character and demanding to say the least! But every time I see the new Lloyds Bank advert it brings tears to my eyes. He looked just like the horses in the film. I still miss him and I think I always will. RIP Fox.